Whether you are looking to save money or give your wedding a unique home made feel, this post will give you some ideas on how you can decorate inexpensive Costco cakes, to create beautiful wedding cakes on a Budget.
As soon as you mention the word 'wedding' I swear the price goes up by 50%. And with the average wedding in the UK now costing around 30k, It's understandable why people may be looking for lower cost alternatives.
The Costco Cake
The Costco sheet cake is 12 x 16 inches in size and feeds approximately 48 people. You can choose from a plain sponge or a chocolate one (I can personally verify the chocolate one tastes amazing). You can also chose from a variety of fillings.
Don't believe me? Check out this amazing wedding cake made from Costco sheet cakes by a couple in America…
Costco do have a set range of decorations available which you can personalise and choose from selected colours. However I think you can achieve a much grander affect by ordering the plain cake and decorating it yourself.
The Costco plain sheet cake costs £14.99 (appromimately $20). I think you would be hard pushed to find better value wedding cakes on a budget.
Decoration Ideas for Wedding Cakes on a Budget…
Flowers
Flowers can look beautiful on a cake. Simple and elegant. And you can create so many different looks, from striking large blooms, to lots of intricate flowers. And of course, the perfect way to tie in the colour scheme for your wedding.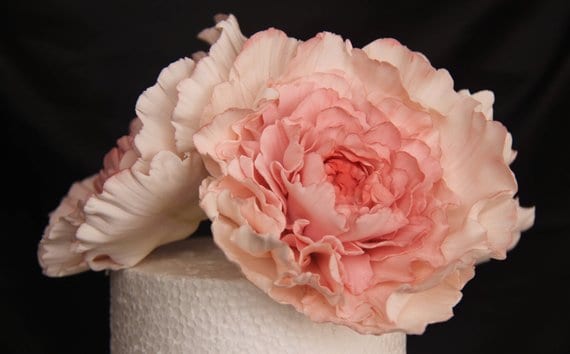 To create a bold and beautiful look these fondant peonies are available in a number of colours with a large bloom costing around £20. Of course you don't have to use edible flowers. Silk flowers or fresh flowers would look amazing too.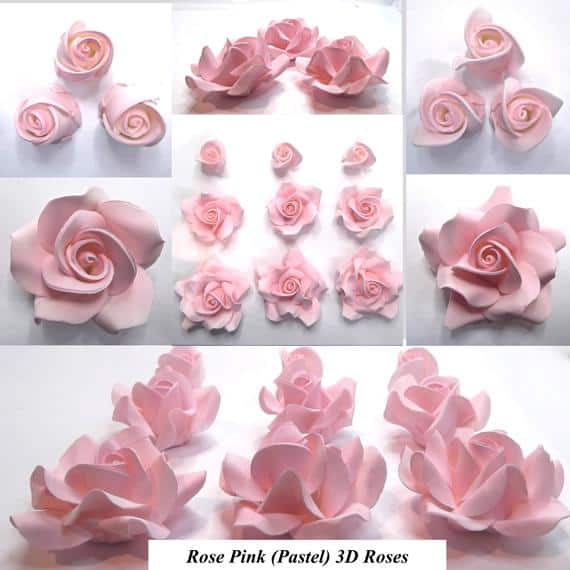 For a more intricate look, these sugar roses are available in over 100 different shades and various sizes. 12 medium roses will cost you approximately £26.
Cake Toppers
There is so much choice for cake toppers. Gone are the days where it was just bride and groom figurines. These cake toppers won't break your budget, will bring an opulent style to your cake.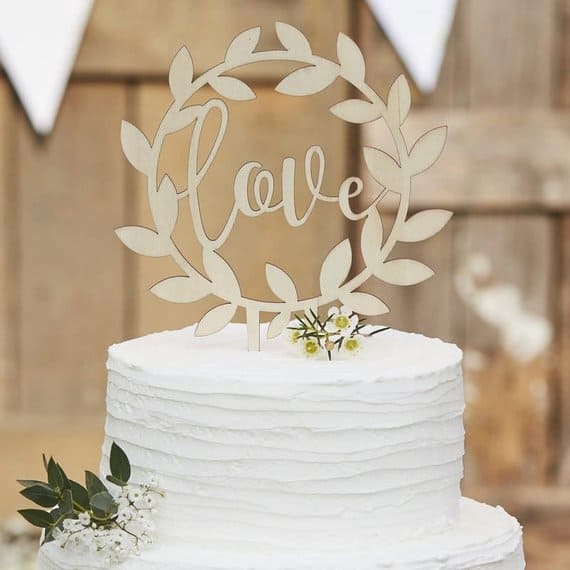 This beautiful wooden cake topper measures 19cm high and costs less than £6. Other options are available including "Mr & Mrs". If you were feeling creative you could even paint them to match your wedding colours.
Who doesn't love a bit of bunting. There are lots of options available, and you can even get personalised bunting but this example costs £10.99.
These silhouettes figures create a really striking alternative to the more traditional figurines. They are 15cm high and come in a range of colour options. All for the bargain price of £8
Finishing Touches
Wedding cakes on a budget don't have to be limited. The cake doesn't even need to remain white. Their are lots of edible pains and spray paints that you can use to create the look you desire.
A metre of this ribbon available in various Widths will cost you less than £2 for a really elegant finish.
A cake stand can really set apart your cake too, and in this case something you can keep afterwards. This stand is just under £30, but could also be gifted as an early wedding present for you to use on the big day.
Alternatively get creative and make your own stand from a crate.
What are you waiting for…
There are so many ideas out there for creating wedding cakes on a budget, that it's easy to take a low cost cake from Costco and turn it into something really special for your wedding without spending a fortune.
*Prices correct at the time of publishing
You might also like…
This post contains affiliate links which you can learn about here.
Pin this