Rookie Mistakes is a series where guest bloggers divulge their parenting fails, and make us laugh or inspire us in the process.
Perhaps the biggest rookie mistake parents make is underestimating the impact small people have on our lives.  Have you ever had to bite your tongue when prospective parents say. "nothing is going to change, the baby will just slot right into our lives"?  
This weeks Rookie Mistake guest post comes from Talya who blogs at Motherhood: The real Deal.  Talya looks at how much she underestimated the impact deciding to have a baby would have on her life.
Bio:
Bold, authentic, no-shit talking and hilarious – the up and coming blog Motherhood: The Real Deal has had parents weeing their pants and nodding in agreement with its mix of sassy thought, unbridled humour, general WTF-ness about motherhood and parenting, and SOS tips on how to survive.
Motherhood: The Real Deal is run by Talya, a mum to a very intense, amazing little toddler gal who most of the time specializes in driving her round the bend. Having given up the working mum role when she hit 12 months (she was the co-founder and Editor-in-Chief for an online lifestyle platform) she's sat on both sides of the fence as a working and then stay-at-home mum and like many, have grappled with the issues which come hand in hand with both scenarios.
The Rookie Mistake of All Rookie Mistakes? 
My biggest rookie mistake started before I even became a parent. My biggest rookie mistake was thinking – oh yeah, we'll just start trying for a baby and it will take an AGE, so best to start a year in advance because we'll need all the time we can get. Yes everyone around us was taking around a year to conceive so surely that would apply to us. Pfffffft!
I had my own company, was living overseas in Asia and thought if I got preggers in around 12 months time, I'd be in a position to hire someone in to do my role in the company. We could probably even relocate back then to be closer to family. Easy.
Yes, we'd have months of months of sex on tap, trying to get preg. It would be endless wild and magnetic sessions as we coupled up in the name of bringing another entity into this world.
WRONG!!!!!
You fool.
At least it wasn't the first month. But the second month. The blue cross appeared.
As I smelt the fear oozing out of my business partner's pores at the fact that in around nine months time the driving force of the company would in fact, be driving another entity out of her nether regions, I made my next rookie mistake:
Thinking I could just pop the baby out, and be back in the company driving seat a couple of months later while I let someone take care of my little bundle and be ok with it. Oh and breastfeed through it by exclusively pumping (because I couldn't get my girl to take direct) without giving myself a nervous breakdown.
WHAT WAS I THINKING?
Clearly I wasn't.
Of course, you probably have a notion how this ended. My two big rookie mistakes were 1) totally underestimated the time it would take to take pregnant and 2) underestimated how monumental this life event would be for me,  how the incredible maternal bond would be gripping me from inside out every minute of every day, and especially when I was away from my little girl.
But unlike some other parental rookie mistakes, where you can have a good old laugh about your idiocy not long afterwards, this was a rookie mistake that continued to beat me over the head with a stick for the first 12 months of being a mum. And a little bit more thereafter. Yes, the rookie mistake of all rookie mistakes perhaps.
However, making this almighty rookie mistake has made me endlessly thankful that I am now able to dedicate my time wholeheartedly to being a mum…even if it does drive me up the wall a significant proportion of the time!
You can follow Motherhood: the Real Deal on Facebook and Twitter.
If you could go back and tell your pregnant self anything what would it be?
You can read previous guest posts from the Rookie Mistakes series here.
If you are a blogger and wish to take part in the series you can find out more here.
For more from Life, Love and Dirty Dishes follow my social networks, or subscribe by clicking here.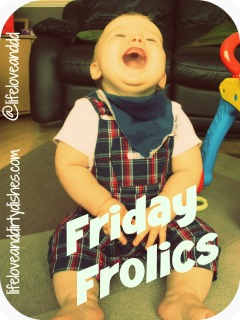 I'm linking this post to…