Rookie Mistakes is a series where guest bloggers divulge their parenting fails, and make us laugh or inspire us in the process.
This weeks guest post comes from Danielle who blogs at Living With The Mess.  She is sharing her potty training fail.  I say forget all those books that tell you how to do it.  Lets all join together with our potty training fails and tell everyone how not to do it!
Bio:
A former teacher, Danielle blogs about parenting and preschooler activities at Living With The Mess. As a sleep deprived parent to a toddler and baby, she's spent the majority of this year shedding pounds with Slimming World and is now in the final few weeks of maternity leave before returning to work, hoping to mix a part time job with blogging.
The No Nappy Nap
We potty trained our toddler not long after her 2nd birthday. She was ready for it and took to it well, becoming reliably dry in the daytime after a couple of weeks.                                                                                                                                                                                                                                                           
Sleep times are another matter. Seriously, she can wee for England when she's asleep, so we still use a pull-up on her at night and for her nap times. We're really lucky that she has never tried to fight her nap. Even now, just 8 weeks before she turns 3, she still happily climbs into bed after her lunch and sleeps for 2 hours. I love her so, so much, but I really do cherish that quiet time. And even more, I cherish the rare golden times when I manage to get both the baby and the toddler to nap simultaneously! You'll never know just how much food I can eat during that time. All. By. Myself.                                                                                                                                                                                                                                                                                                                                  
And so on this particular day the baby was already asleep. The toddler had just finished her lunch and I knew that I was about to have at least a whole 30 minutes of me time. Maybe a bit longer if I was lucky. Time to watch trashy TV and stuff my face without having to share my food. I got her in to bed, kissed her and closed her door, dancing down the stairs as quietly as I could.                                                                                                                                                                                                                                                                                                                                                                                  
The baby woke about 45 minutes later and we had some lovely one-to-one playtime before I needed to get the toddler out of bed and bring her downstairs.                                                                                                                                                                                                                                                                                   
It was only when I was on my way up the stairs that a thought hit me and sent me cold.                                                                                                                                                                                                                            
In my haste to get her into bed I'd forgotten to put one on her. My head suddenly filled with different scenarios that might greet me when I opened her door. I clung on to the most unlikely one. Maybe this would be the day that she stays dry when sleeping. Maybe she'd instinctively know she wasn't wearing a nappy. Maybe this is a new method for staying dry at night and I'd be hailed as a parenting guru!                                                                                                                                                                                                                                                                                                                        
I opened the door to find her sat up in bed.                                                                                                                                                                                                                                                                                                                              
That was a slight understatement. Her clothes were soaked through. And, as we hadn't yet invested in a waterproof sheet for her bed due to using nappies, so was her bed sheet, along with her mattress.                                                                                                                                                                                                                                                                                                                                                                           
Quick thinking needed. How on earth was I going to get a sopping wet mattress dry in the four hours before her bedtime?                                                                                                                                                                                                                                                                                                                                                 
And so it was that I ended up dragging it down the stairs, through the house and out into the garden. Did I mention she sleeps in a double bed? That's not easy to do on your own with a toddler and baby around. Thankfully it was a very sunny day, and fortunately in the last hour before bed it had become dry enough that the toddler was out using it as a trampoline!                                                                                                                                                                                                                                                                                                                                                                                                                 
And every nap time since that day, when we are climbing the stairs to her room, my mind briefly flickers back to the day of the 'no nappy nap' and I whisper "Don't forget the nappy!" in the hope that some other parent, with some other toddler, won't make my rookie mistake. 
You can follow Danielle's blog Living With The Mess on facebook and twitter.
Have you had a potty training fail?
You can read previous guest posts from the Rookie Mistakes series here.
If you are a blogger and wish to take part in the series you can find out more here.
For more from Life, Love and Dirty Dishes follow my social networks, or subscribe by clicking here.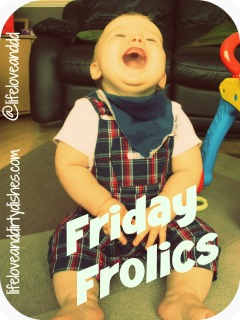 I'm linking this post to…