This series invites bloggers to divulge their rookie mistakes so we can all feel a bit better about ours and know that we are not alone.  
Most parents have had a  rookie mistake with a nappy.  We all have a poo story to tell.  Some of us even have a collection of them!  This weeks guest post comes from Georgie who blogs at Junebugs Mumma.  She has a smelly rookie mistake to share.
Bio:
Hi, my name is Georgie.
I live in regional South Australia with Mr Junebug and our two gorgeous girls, K + M. Trying to live by my Grandma's mantra – "You've gotta be able to laugh." 
My blog is a lighthearted, honest look at the chaos that is motherhood.
Perfecting The Poonami
Snuggled on the couch, reading to K; M tucked against my chest in the sling, fast asleep – life seems pretty darn perfect.
As I'm mid sentence, without so much as flinching, M lets rip with two of the loudest, juiciest, most offensive shits ever passed through a newborns tiny bum. K and I exchange a look of shock and panic. Judging by the force of the explosion, I know instantly that we're dealing with a poonami that all the nappies in the world could not have contained. 
We jump up and race down to M's room – K starts pulling out clean nappies and wipes, while I try desperately to unravel M from the intricately wrapped sling that's holding her tight against my chest.
I know in my heart that I've got shit on me – I've braced myself for that fact. What I have not prepared myself for, is that the poonami has already reached the sling.
I'm madly pulling and twisting, trying to unravel the four metre long piece of material without dropping M like a hot potato covered in shit; the small patch of poo on my shirt has now been smeared in 360 degrees around my stomach and over my shoulder. Meanwhile, K is gagging and throwing wipes and nappies across the room. M is quietly pleased with her efforts.
I finally get M onto the change table – her once white pants, now a hideous shade of yellow. I carefully pile the sling on the floor, ensuring there is no poo in contact with the new carpet.
I peel back her pants and gasp as I realise the extent of the devastation. K hears my gasp and rushes closer to make sure I've got things under control. In her haste, she trips over the sling – knocking the poo soaked section onto the carpet and squashing it in with her knee.
There is now shit on all three of us, the sling, the carpet, the change table and every piece of M's outfit (excluding one sock).
Job title: Mother of two.
Status: Nailing it."
You can follow Georgie's blog Junebugs Mumma on facebook and twitter.
Have you made a rookie mistake with a nappy?
You can read previous guest posts from the Rookie Mistakes series here.
If you are a blogger and wish to take part in the series you can find out more here.
For more from Life, Love and Dirty Dishes follow my social networks, or subscribe by clicking here.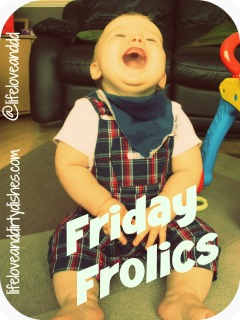 I'm linking this post to…