Rookie Mistakes is a series where guest bloggers divulge their parenting fails, and make us laugh or inspire us in the process.
Kids quite often like to choose their own clothes and can have an extreme aversion to others.  My son was not impressed when Nana bought him a pink shirt and was very forthright and vocal with his feeling about it. Not exactly greatful!  
This weeks guest post comes from Emma Lawson.  Emma is a busy mom to two wonderful boys. They are a true inspiration for all her articles.   Her post is all about kids and formal wear, and what can go wrong…
My Son, the Button Fighter
When I was a kid, I thought that nobody could embarrass you like your parents. Now I know who can – your OWN kids.
I'm trying hard to raise a blushing-free son, to save him from feeling ashamed because of my actions or character. And you know what? I'm doing great, trying to adapt my life to his. My Luke is a lively kid with a lot of imaginative ideas, but his actions often put us into strange situations, which usually end up with my face turning red.
The most incredible concoction that he has come up with up to now happened last spring. A colleague from work invited us to her daughter's birthday party. It was her first birthday and they were all very excited. Knowing how much that colleague of mine cared about formalities, I wanted Luke to wear a shirt and a little tie – a perfect match for a 3-year old boy. Although I knew he did not like buttons, the shirt was beautiful and at first he accepted to wear it. I was very proud of my maternal skills and his maturity.
However, when we got to the party, he started running with other kids. Of course, he came to me very quickly and asked me to get changed into his favorite Spiderman T-shirt. It was hot, he was sweating and the buttons were making him nervous. I wanted him to stay dressed up for the cake and the photo session, but my attempts to convince him were futile. After a couple of minutes of our discussion, he ran back to his peers. I thought I got him. But at one moment I looked at the table with the cakes and saw my Luke putting some small objects into the biggest cake. When I got to the table, I was so awe-stricken that I wasn't able to react at once – there was my Luke, standing by the birthday cake, tearing off the buttons from his shirt and putting them into the cake like coins. Then he took off the shirt, threw it onto the floor and started running around the restaurant. I was trying to catch him, but he was just too fast.
When I finally got him, he was relieved that he got rid of the shirt and, what is more important, of the buttons. I had no other choice but to surrender and give him the #$#% Superman T-shirt. He wasn't dressed up for the photo session, but I realized that he was my superhero anyway, not only because of the T-shirt hero. He showed me in an embarrassing, but impressive way that I have to listen to his wishes and not conform to my colleague's rules.
As for the cake, luckily he had enough time to put only five or six buttons into it, so the waiters managed to take them out and save the cake, as well as my face from even larger embarrassment.
For more from Emma, follow her on twitter.
Have you ever had any embarrassing clothing moments with your little angels?
You can read previous guest posts from the Rookie Mistakes series here.
If you are a blogger and wish to take part in the series you can find out more here.
For more from Life, Love and Dirty Dishes follow my social networks, or subscribe by clicking here.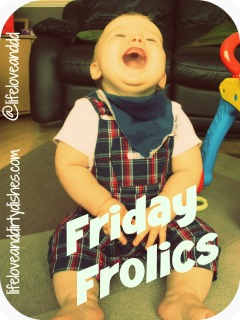 I'm linking this post to…