Super Nanny, Gina Ford, The Baby Whisperer, The Three Day Nanny.  Ever wonder why there are so many parenting 'experts' out there telling us how to do things?  I don't know who, but someone, somewhere gave the game away.  They let it me known to all, that us parents don't really know what we are doing.  We are pretty much making it up as we go along and most days fly by the seat of our pants.  
Because we have no clue what we are doing we tend to make some pretty unforgettable parenting fails and rookie mistakes.  This series invites bloggers to divulge their rookie mistakes so we can all feel a bit better about ours and know that we are not alone.
This weeks guest post comes from Julie who blogs at Picking Up Toys.  Julie gives us her top 10 parenting fails.
Bio:
Picking Up Toys is a parenting blog written by me, Julie, with humour about  my life with children aged 17,6 & 3 and how I juggle my life with them,my partner and a part time job!
My Top 10 Parenting Fails
Let's be fair, no parent is perfect.We all make mistakes,balls things up regularly and I'm sure most of us have thoughts such as "what the hell am I meant to do now" when faced with a new baby to look after alone!So here are some of the times we've naffed up so far – and these are just the ones we haven't hidden in the "too embarrassed to remember" memory banks!
1.The time I forgot to pack sickbags for my child who got terrible car sickness and as I had a courtesy car at the time I didn't want him vomming all over it so had to give him my brand new handbag. Couldn't face washing it out and had to bin it!
2.The time I left it 2 seconds longer than I should have to find out why my daughter was quiet only to find her in the bathroom covering herself in tooth paste. Mmmm Minty fresh!
3.The time the hubby and I were  brave whilst we were potty training and took our daughter to his Mum's without a pull-up.Cue wet patch on her settee and cream carpet.
4.The time I thought "what harm could it do?" if I let my little man eat Coco Pops on the living room floor.What could possibly go wrong.Right?
5.The time I didn't check that we did in fact still have spare clothes in the boot of the car and let the kids play in the stream.Cue 6 year old crying on the way home as the makeshift cover-up hoody "looked like a skirt"
6.The time,whilst baking with the kids,I said "don't touch anything" while I went to get something. Came back to find my kitchen like a scene from Frozen.No pics sadly,was too traumatized.
7.The time my Mum was watching Countdown and every time the Countdown clock got to the end my 3 year old shouted "Effing hell" to this day I have NO idea where on earth he got it from as I never watch it!Fair to say she was horrified – although I'm sure I saw a little smirk as she turned away.
8.The time I forgot to give my son his dinner money, on ringing the secretary to apologise and ask if they could provide him with a lunch and I would pay later I was met with a stony silence – I'm sure she was pressing the speed dial for Social Services.
9.The time my 2 year old daughter did a runner in Asda only to be picked up and brought back by the Security Guard,in the meantime her Father and I had 3 heart attacks each and lost at least 10 years off our lives!
10.The time I got on the bus and this pic was scrawled on the seat in front.I'm ashamed to say I absolutely wet myself and the kids thought I'd completely lost the plot and wanted to know why I was laughing. Obvs I said it was because there was a silly man outside!
You can follow Julie's blog Picking Up Toys on facebook and twitter.
What makes number one on your parenting fails list?
You can read previous guest posts from the Rookie Mistakes series here.
If you are a blogger and wish to take part in the series you can find out more here.
For more from Life, Love and Dirty Dishes follow my social networks, or subscribe by clicking here.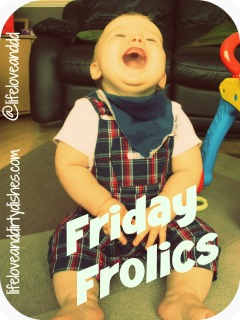 I'm linking this post to…