Rookie Mistakes is a series where guest bloggers divulge their parenting fails, and make us laugh or inspire us in the process.
It took me just over a year before I broke my first born.  Not too bad going.  He was stood with his walker when it went one way he went the other.  The other being straight towards our coffee table.  We had been responsible parents and put corner protectors on the table.  They didn't protect him from from the edge of the table leg though.   Their was blood – his, tears – mine, and a trip to A&E.  The long term effects are a Harry Potter esq scar and a sick feeling in the pit of my stomach whenever I think about it.
Are injuries a rookie mistake or a right of passage for parents?   
This weeks guest post comes from the brilliantly funny Helen who blogs at Mess, Stress and Fancy Dress.  Her rookie mistake involves a trip to A&E and a disastrous nappy change.
Bio:
The world has mistakenly entrusted the health and welfare of two slightly mental children to me. I have outsourced this where possible but continue to be woefully inept and slightly deranged on the days when I'm in charge. They however continue to be gorgeous, energetic, frustrating and insane in equal measure.
Rookie Mistake – Changing Babies on Elevated Surfaces.
After giving birth you feel like you've been run over by a bus. You probably have stitches – be they in your newly emptied rather flabby stomach, or in your somewhat mangled lady garden. Just having a wee smarts a bit and you are convinced that bending over is likely to rip all the stiches. So the elevated changing surface appears to be very sensible indeed.  Lots of people buy those changing table units with all the spaces to put the nappies and the bits and bobs. It seems safe, it's like Mothercare are telling you it's the best way to change your child. Not in my house.
My first brush with the danger of the elevated surface occurred on the first day that my husband went back to work after paternity leave. I was already shitting it, as it was quite clear to me that I should not be left in charge of a small human with so little training. (and very little sleep) Surely someone should notify the authorities immediately. Little did I know that in fact it would be me alerting them to my incompetence within the hour! It was about 9am, we were up and the baby was ready for a change. I changed her on the top of the chest of drawers in her room.  I put her on the change mat, I even stopped to take her photo (at this stage I probably took about 47 photos of her a day) Nappy off, air to her bits, she did what I now know all 2 week old babies do when their nappy is removed – a massive spurting wee. It took me by surprise, I jumped, she jumped (well she was 2 weeks old, she sort of shook a bit and startled) it was enough to fall off the drawers, banging her head on the wall on the way down.
Horrified that I had probably broken our baby within the first 2 hours of being left in charge, I cuddled her and we both cried hysterically. I called my mum but was so distraught that I hadn't yet managed to regain the power of speech. I will never forget the reassuring words of my mother on the other end of the phone "is that you dear? Yes, you're crying so hard I can't understand a word you're saying darling. Whatever it is I'm sure it's not as bad as you think. I'm just getting my coat on now love, I'll see you in a minute, it will be ok, I promise" and she was right. We spent the whole day in A&E under observation but she was fine.  Being dropped on your head at 2 weeks might explain some of the toddler behaviour though…..
This one's a double whammy of incompetence. A double header if you will. I don't learn quickly.
Sadly the elevated surface took me in again. Having the baby up higher really did make the changing process so much less painful for me, so I tried again.
I was changing her on the dining room table (much better, larger surface, surely she can't fall off!) She had done a poo, she's my first child – I don't yet know the rule of "give it 5 minutes after a bit of poo before you bother changing them." I lifted her legs up in the air, to raise her bum so I could pull the nappy out from under her, I angled her bum perfectly and she let out a small sigh and did a massive squirty poo right in my face. It was on the wall behind me, it was running down my chin, but worse still, it went in my mouth. I actually ate some of her shit. Truth be told, I've been eating her shit ever since.
You can follow Helen's blog Mess, Stress and Fancy Dress on facebook and twitter.
Have you ever made a rookie mistake that ended up in A&E?
You can read previous guest posts from the Rookie Mistakes series here.
If you are a blogger and wish to take part in the series you can find out more here.
For more from Life, Love and Dirty Dishes follow my social networks, or subscribe by clicking here.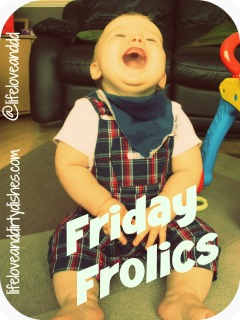 I'm linking this post to…